Hall 1. PhosAgro Group
PhosAgro is a vertically integrated Russian company, one of the world leading producers of phosphate fertilizers. Its main activity is a production of phosphate-based fertilizers, high-grade (P2O5 content 39% or more) phosphate raw materials – Apatite concentrate, feed phosphates, nitrogen fertilizers and ammonia.
The group of companies was established in 2001. Currently, "PhosAgro" consists of Kirovsk branch of JSC "Apatit" (Kirovsk, Murmansk region), JSC "PhosAgro-Cherepovets" (formed by the merger of OJSC "Ammophos" and OJSC "Cherepovetsky "Azot"), Balakovo branch of JSC "Apatit", CJSC "Metakhim" (Leningrad region), LLC "PhosAgro-Trans", LLC "PhosAgro-Region" and JSC "NIUIF".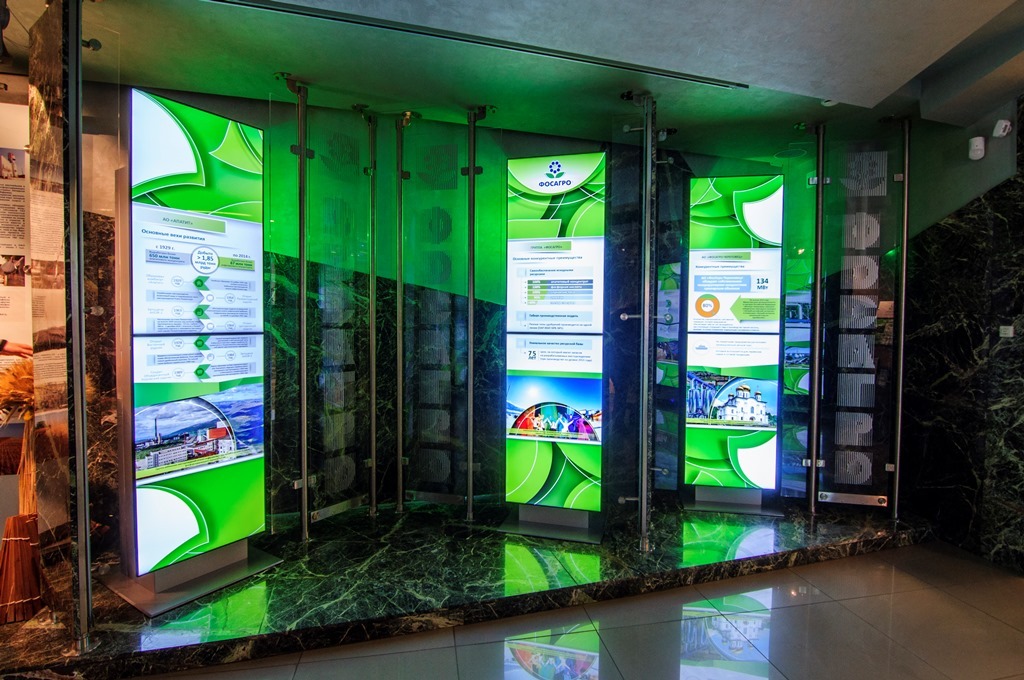 PhosAgro is the largest European producer of phosphate fertilizers, the world largest manufacturer of high-grade phosphate raw materials and second in the world (excluding China) producer of ammophos and diammonium phosphate (according to Ferticon), leading in Europe and the only Russian producer of feed monocalcium phosphate (MCP), the only Russian producer of nepheline concentrate.
Website of the company – www.phosagro.ru
The information on PhosAgro group is represented on modern video booths. Moreover, the samples of products are presented here.