The Research Center "GeoPractice"
The Research Center "GeoPractice" is and education project of the Museum and Exhibition Сenter Kirovsk Branch of JSC Apatit.
The Center "GeoPractice" was opened in 2019.
The main purpose of the project is to stimulate interest to natural sciences, career guidance and understandung the connection between technology, professions and the outside world.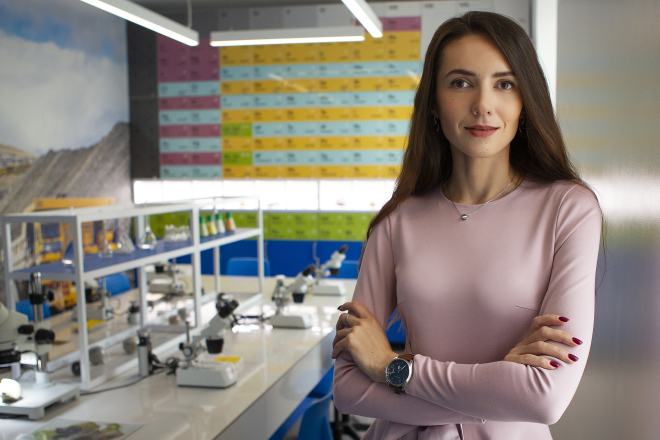 The project consisted of 3 phases:
1) Modernization of expositions by phygital technology
2) Creation of a laboratory for practical classes
3) Developing a course of scientific and practical classes
The course consists of theoretical and practical parts.
Each theoretical theme is followed by a practical class so you can consolidate new material.
Theme 1. General Geology
1) Excursion "The Journey from the Bowels of the Earth to the Atmosphere"
2) Practice Class "Structure, composition and relief of the Earth"
Theme 2. Rocks and natural resources.
1) Excursion "Types, formation and destruction of the rocks. Basic petrography"
2) Practice Class "Classification of the rocks"
Theme 3. Mineralogy
1) Excursion "Minerals of the Khibiny and the Kola Peninsula"
2) Practice Class "Classification and defenition of the rocks"
Theme 4. Mining work
1) Excursion "Open pit and undergrounf mining"
2) Practice Class "Open pit mining principles"
3) Practice Class "Underground mining principles"
Theme 5. Ore Enrichment
Excursion and practice class
How to pass the course "GeoPractice".
The classes are free of charge. We work with both children and adults
Best for: age 10 and older
Group size: 5-10 people
Call (881531) 32-887 and make an individual schedule of classes.
Researchers of the project "GeoPractice" passing all the themes get certificates.